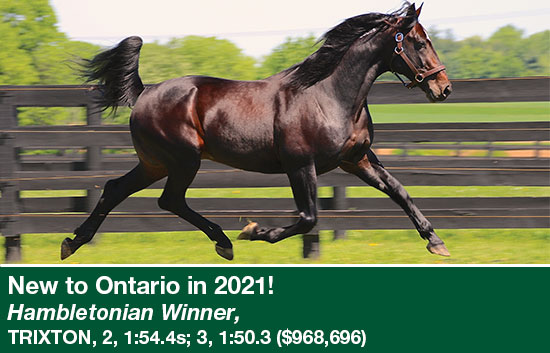 NEWS
Maven To Burke Barn
Tuesday, October 21, 2014 By: Standardbred Canada
Of all the older racehorse divisions, trainer Ron Burke's stable certainly doesn't boast the power in the older trotting mare class that he does in the older pacing mare and older horse & gelding ranks. That is about to change.
Click Here to Read More
McNairs Top OSS Standings
Tuesday, October 21, 2014 By: Standardbred Canada
For the third straight year, trainer Gregg McNair has topped the Ontario Sires Stakes' standings on the training side. This year, he's joined by his son -- driver Doug McNair -- for a father-son sweep.
Click Here to Read More
Purrfect Bags A Record Setter
Monday, October 20, 2014 By: Standardbred Canada
Joann Looney-King's Purrfect Bags notched a mild upset in winning the $100,000 Delaware Standardbred Breeders Fund (DSBF) final for two-year-old pacing fillies Monday at Harrington Raceway in a track record-setting time of 1:53.2.
Click Here to Read More
Click Here for Additional News