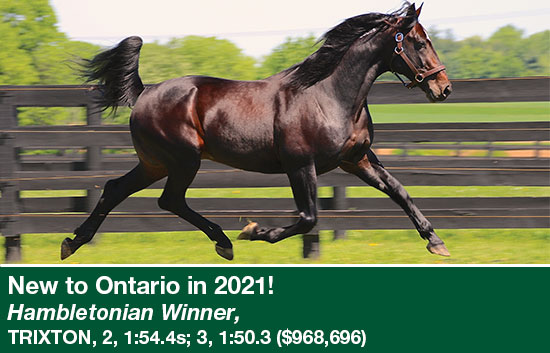 NEWS
Grand Circuit Invades New Jersey
Friday, May 20, 2016 By: Standardbred Canada
Monticello, NY --- The New York Sire Stakes season gets underway at Monticello Raceway on Monday (May 23), as 3-year-old pacing fillies take center stage.
Click Here to Read More
Last call for entries for Goshen Sale
Thursday, May 19, 2016 By: harnessracing.com
The Goshen Yearling Sale has announced a last call for entries. Entries will close on Monday, May 23.
Click Here to Read More
Young Bride Has All The Answers
Monday, May 16, 2016 By: Standardbred Canada
The Empire's annual caravan made its seasonal downstate debut Monday night, with Yonkers Raceway hosting the $164,672 New York Sire Stakes Joe Goldstein Trot for three-year-old fillies.
Click Here to Read More
Click Here for Additional News