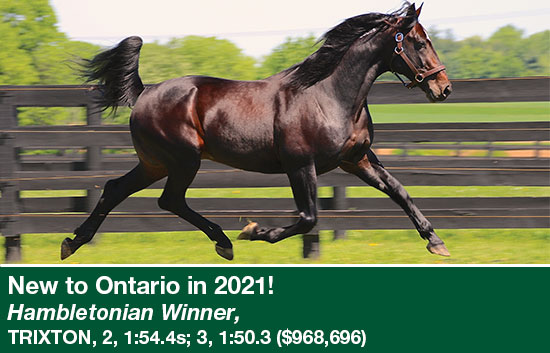 NEWS
A conversation with Julie Miller
Monday, February 05, 2018 By: Ken Weingartner
Hightstown, NJ --- Julie Miller enjoyed a memorable 2017. The year began with her induction into the Iowa Harness Racing Hall of Fame, where she joined her father, Owen Julius, and continued through the season with a string of stakes wins and notable Grand Circuit performances.
Click Here to Read More
Shadow Play's 2018 book is full and closed
Wednesday, January 31, 2018 By: Blue Chip Farms
Wallkill, NY --- Blue Chip Farms is pleased to announce that the book for Shadow Play is full and closed for 2018.
Click Here to Read More
NYSS 2018 schedule confirmed
Tuesday, January 30, 2018 By: New York Sire Stakes
Schenectady, NY --- The Agriculture & New York State Horse Breeding Development Fund today released the approved schedules for the 2018 New York Sire Stakes season, announcing that this year's $1.8 million NYSS finals will be hosted at Yonkers Raceway on Saturday (Sept. 22).
Click Here to Read More
Click Here for Additional News