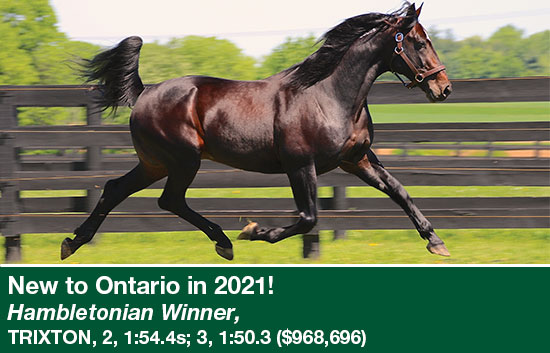 NEWS
Jokerman Wires Batavia's Open Pacers
Sunday, November 29, 2015 By: Standardbred Canada
Jokerman ($4.20) led from gate to wire in the $9,000 Open pacing feature at Batavia Downs on Saturday night (Nov. 28) to register his 10th win of the year.
Click Here to Read More
Pair of fillies repeat in Autumn Series action
Friday, November 27, 2015 By: Mark McKelvie
Toronto, ON --- The Murmuring Pan and Much Adoo will have a shot at an Autumn Series sweep after victories in round two action Friday night (Nov. 27) at Woodbine.
Click Here to Read More
Armbro Feather Passes Away
Tuesday, November 24, 2015 By: Elizabeth Cheesman
Winbak Farm sadly announces the passing of Champion racemare, Armbro Feather, p, 2, 2:03.3h; 3, 1:53.4; 1:51.3 ($1,454,927).
Click Here to Read More
Click Here for Additional News