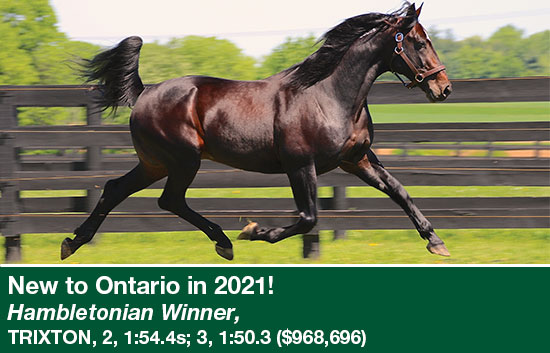 NEWS
Winbak Farm Videos for onGait Yearling Sale Posted
Tuesday, August 20, 2019 By: Elizabeth Cheesman
In 2019, Winbak Farm will participate in the onGait Yearling Auction. The auction will take place 9/18-9/21 on onGait.com.
Click Here to Read More
Greenshoe Rebounds In Zweig
Saturday, August 17, 2019 By: Standardbred Canada
Sent the 1-9 favourite, Greenshoe returned following his runner-up effort in the Hambletonian to down his competition in the $330,000 Dr. Harry M. Zweig Memorial at Vernon Downs on Saturday, Aug. 17.
Click Here to Read More
Winbak Farm Videos for Ohio Selected Jug Yearling Sale Posted
Friday, August 16, 2019 By: Elizabeth Cheesman
For the first time in 2019, Winbak Farm will be selling yearling at the Ohio Selected Jug Sale. The sale will be located at the Brave Horse Show Park in Johnstown, OH on September 13th.
Click Here to Read More
Click Here for Additional News