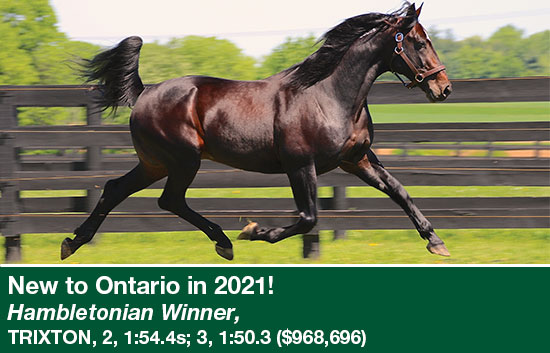 NEWS
2020 Standardbred Horse Sales annual auction will be held at Maryland State Fairgrounds
Monday, August 10, 2020 By: Standardbred Horse Sales Company
Harrisburg, PA — The Standardbred Horse Sales Company has announced that its 2020 annual sale will be held at the Maryland State Fairgrounds, 2200 York Road, Lutherville–Timonium, Md. Yearling sale dates are Tuesday (Nov. 3) to Thursday (Nov. 5). Mixed sale dates are Friday (Nov. 6) and Saturday (Nov. 7).
Click Here to Read More
American Courage, Groovy Joe best in NYSS at Batavia
Sunday, August 9, 2020 By: Tim Bojarski for Batavia Downs
Batavia, NY – Batavia Downs played host to the New York Sire Stake 2 and 3-year-old pacing colts and geldings on Sunday afternoon (Aug. 9) and the perfect weather brought out some exceptional performances.
Click Here to Read More
Tall Dark Stranger Vicious In Cane
Saturday, August 8, 2020 By: Standardbred Canada
A fourth-place finish in his last start would appear to be just an aberration for Tall Dark Stranger, who manhandled his rivals in the 2020 Cane Pace -- the first leg of pacing's Triple Crown -- during the Hambletonian Day card at The Meadowlands on Saturday (August 8).
Click Here to Read More
Click Here for Additional News