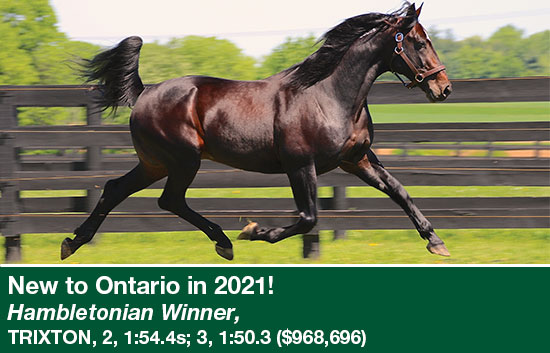 NEWS
Gold winner Lifetime Royalty looks worth the investment
Tuesday, July 17, 2018 By: Standardbred Canada
Milton, ON --- Grey skies parted to reveal a double rainbow and Ontario Sires Stakes hopefuls evolved into Gold Series winners as the 2-year-old trotting colts and geldings made their provincial debut at Woodbine Mohawk Park on Monday evening (July 16).
Click Here to Read More
Miller reflects on Pace win
Tuesday, July 17, 2018 By: Standardbred Canada
Hightstown, NJ --- David Miller has made countless trips to the Meadowlands Racetrack winner's circle during his Hall of Fame driving career, but when he returned to that spot following Saturday's Crawford Farms Meadowlands Pace, none counted more.
Click Here to Read More
Melodies Major tops entries in NYSS at Buffalo Raceway
Tuesday, July 17, 2018 By: Brian J. Mazurek
Hamburg, NY --- Buffalo Raceway has seen 10 track records either tied or broken during the 2018 season and when the 2-year-old colt and gelding pacers step onto the racing surface Wednesday night (July 18) in a pair of $53,500 divisions of the New York Sire Stakes, a pair of long-standing marks could be in serious jeopardy.
Click Here to Read More
Click Here for Additional News