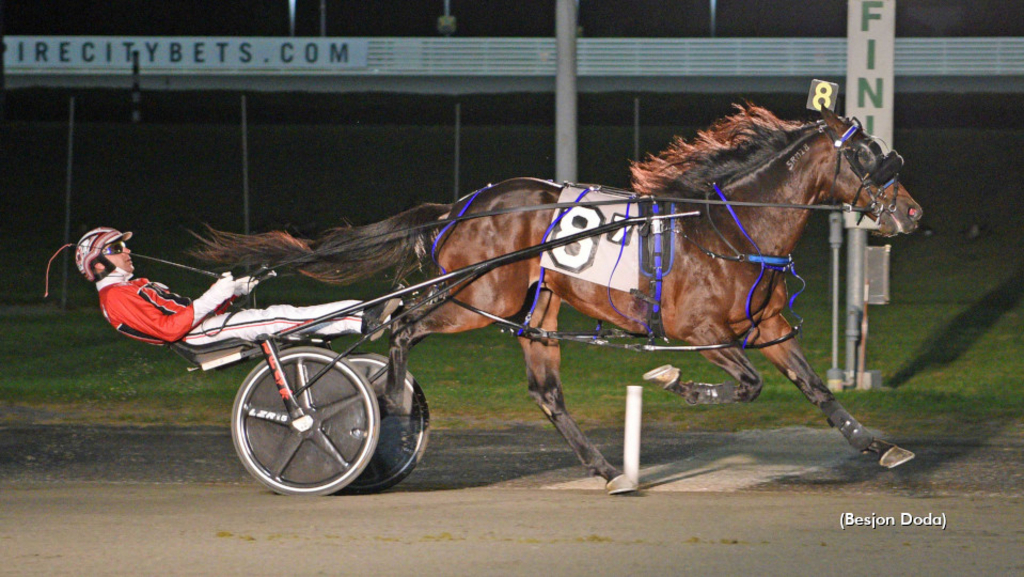 Fresh off his first win in the fourth preliminary round of the MGM Borgata Series for older male pacers, Tattoo Artist will look to again make a mark on the event this Monday.
Tattoo Artist is fourth in the Borgata points standings heading to Monday's fifth of five preliminary rounds, where he will compete in the third of three $50,000 divisions. The top eight horses at the end of the prelims are eligible for the April 25 Borgata final. If horses are tied for the last spot, they will be drawn by lot to complete the field.
A five-year-old stallion, Tattoo Artist is the 2-1 morning-line favourite in the third division. Dexter Dunn will be in the sulky for trainer Chris Ryder, who conditions the horse for owners Let It Ride Stables, Frank Cannon, and Diamond Creek Racing.
The field includes three other horses sitting in the top six in points in the Borgata standings: This Is The Plan (second), Funatthebeach N (fifth), and Pat Stanley N (sixth). This Is The Plan and Funathebeach N also were fourth-round division winners.
For the series, Tattoo Artist has two seconds and a third in addition to his victory.
"I've been pretty happy with him," said Ryder. "This will be his fifth week (racing) in a row, but he can do it. He's all right that way. He's a good-feeling horse, holds his weight and everything. He's durable."
Tattoo Artist, a son of Hes Watching-Stylish Artist, was a 2020 O'Brien Award winner as Canada's top three-year-old male pacer and a 2019 Ontario Sire Stakes champion for trainer Dr. Ian Moore. For his career, he has won 21 of 52 races and $1.24 million.
He has done well on half-mile tracks, like Yonkers, hitting the board in 13 of 14 lifetime starts with five wins. He is a co-holder of the all-age track record at Yonkers, with a 1:49.3 mile.
"He's a little fella, everyone knows, but he's got gate speed and he's quick," said Ryder. "He gets around Yonkers terrific. He's just handy.
"He doesn't like you fussing with him. A lot of studs are like that, don't like being fussed around with too much. He's his own man. But he's a beautiful horse to train, really nice. He's just a good horse with a lot of good qualities. He shows up."
Three of the top nine horses in the Borgata standings are in Monday's first division: Leonidas A (third), Semi Tough (eighth), and Western Joe (ninth). Leonidas A, the 8-5 morning-line favourite, was a fourth-round winner and is unbeaten in all three of his Borgata starts.
Jacks Legend N, who is seventh in series points, is the 9-5 favourite in the second division. The only other horse in that field in the top 14 in the standings is Poseidon Seelster, who sits in 10th place. For the complete MGM Borgata Series standings, click here.
Live harness racing begins at 6:55 p.m. EDT at Yonkers.