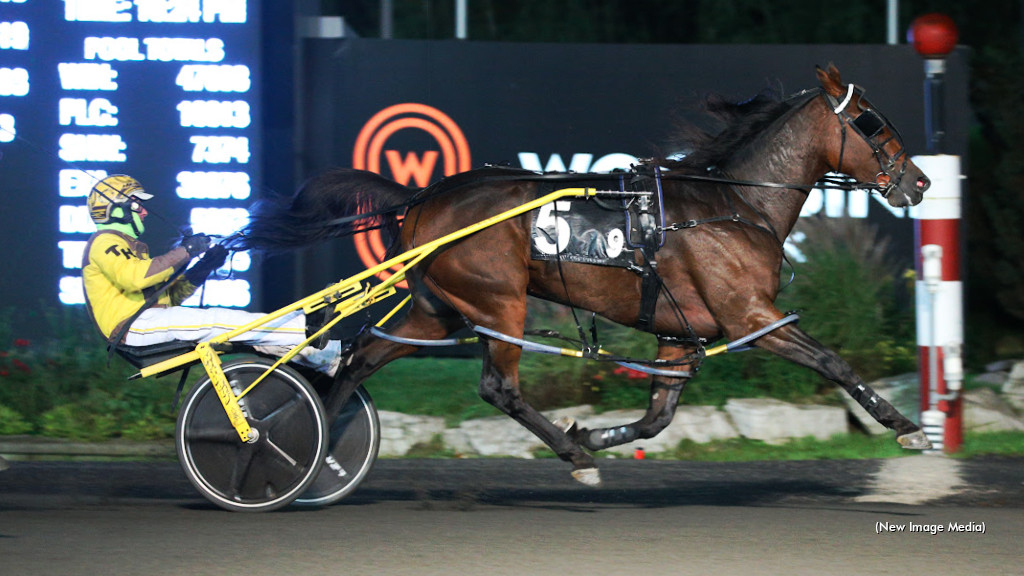 The 2021 Somebeachsomewhere Horse of the Year Award winner, Desperate Man made his four-year-old debut on Friday (April 22) at Woodbine Mohawk Park and he picked up right where he left off.
With regular pilot Trevor Henry at the controls, Desperate Man was one of six four-year-olds competing in the third qualifier of the morning comprised of a lineup that looked more like a four-year-old open. The field also featured two Ontario Sires Stakes Gold winners from 2021 (Powertrain and Second Bruiser), the 2021 Western Canada Pacing Derby champ (Sunshine Boy), the 2021 Ontario Sires Stakes Grassroots Final winner (Armor Seelster) and the winner of the 2021 Ontario Sires Harvest Series Final (Control Heaven).
Positioned in fourth early during his qualifying debut, Desperate Man watched as Control Heaven (Louis-Philippe Roy) and Sunshine Boy (Bob McClure) took turns on the lead through the :29.2 opening quarter, and then Henry right-lined Desperate Man from fourth to clear to the top.
His lead was short-lived, however, as Powertrain (Sylvain Filion) followed his move to the outer flow and brushed to the top just after the :57.3 half. Powertrain maintained command through a 1:26 third panel and into the stretch before being confronted by the backfield. Desperate Man evacuated the pocket and took a run at Powertrain, who Filion had to steady in deep stretch. Desperate Man took the lead and then held off a hard-closing Second Bruiser (James MacDonald) and Sunshine Boy to trip the timer a head the best in a time of 1:53.1.
"He was pretty good for his first time back. It was a top bunch...and he's the type of horse that will always find a way to win," Henry told Trot Insider, noting that he expects Desperate Man to be back at Mohawk for another qualifier in a week's time.
Kathy Cecchin trains Desperate Man (Shadow Play - Dreamlands Latte) and co-owns the pacing powerhouse along with her husband John, daughter Nikki and son-in-law Paul Davies. The O'Brien Award winner comes into 2022 with a mark of 1:49.3s taken at Mohawk with $986,266 in career earnings. What Henry will say doesn't come along with that process of bringing back this Horse of the Year is any unrealistic pressure from the ownership group.
"They just go with the flow and there's no high expectations with them. He's done way more than they ever thought he would, so they just take it as it comes."
2021 O'Brien Award finalist Silver Label employed similar tactics in her sophomore debut. James MacDonald positioned the pacer in second behind divisional rival Warrawee Xpat (Jody Jamieson) through tepid fractions of :29.2, :59.3 and 1:29.3 and then angled into attack mode turning for home. Silver Label willingly powered home, stopping the clock in 1:56.1 some three lengths the best over Dewitt For Josie (Roy) and Warrawee Xpat.
A homebred of Stouffville, Ont.'s Millar Farms, Silver Label (Bettors Delight - Hidden Gem) amassed a summary of 6-2-0 from eight seasonal starts for trainer Nick Gallucci while stashing away $341,726 in earnings. Look for Silver Label to be pointed toward the SBOA Stakes eliminations next month.