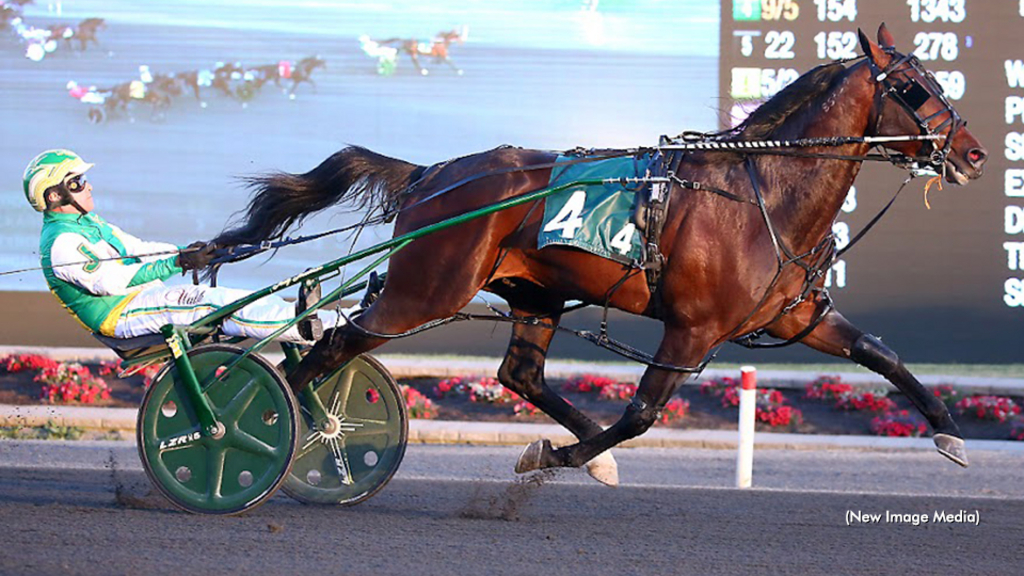 The Graduate Series made its first appearance for the pacers at Woodbine Mohawk Park since 2019 on Saturday (June 4). The four-year-old series featured three divisions, one for the ladies and two for the boys.
Bulldog Hanover made a second-quarter move to the top and never looked back to win the first $62,500 Graduate division in 1:49.2. The Jack Darling trainee went third to first for driver Jody Jamieson, pacing by the half in :55.3 and three-quarters in 1:23 before shooting home in :26.2.
"I just thought I'd get to the front as early as possible and get the traffic out of the way," said Jamieson. "He's just such a great horse and I knew it was no problem getting to the lead and even if we had to race a little bit for it, it was going to be on, but it wasn't and he won pretty handily."
Making his Woodbine season debut, Bulldog Hanover is now two-for-three this season. The son of Shadow Play won 10 of 15 starts last season and Saturday's 16th career victory pushes him to the brink of millionaire status.
Jack Darling Stables Limited and Brad Grant share ownership of Bulldog Hanover, who paid $5.70 to win.
Carbine showed tremendous grit to pull out a 1:49 victory in the second $62,500 Graduate division. Todd McCarthy scored his third stakes win of the evening by guiding the Tony Alagna trainee to victory.
After posting a :26.3 opening quarter, Carbine received company in the form of a first-up attack from favourite Linedrive Hanover, who came out from fifth. The half was reached in :54.3 and then a third quarter slugfest ensued between Carbine and 'Linedrive', which saw the pacers duel by the third-marker in 1:21.1.
In the stretch, Carbine dug deep to hold the lead right to the wire, fighting off three rivals for the victory. One Eight Hundred got up for second on the far outside, while Bettors Donttell pushed up the rail to be third. Linedrive Hanover stayed in the fight, finishing fourth.
A son of Somebeachsomewhere, Carbine improved to three-for-four on the season and now has 10 victories and more than $139,000 earned for owners Let It Ride Stables Inc., Bottom Line Racing LLC and Howard Taylor.
Carbine paid $6 to win.
Oakwoodanabella IR got full respect and made no mistake on the front to win the first $50,000 division for pacing mares in 1:50.2. Todd McCarthy grabbed his second stakes win of the evening, guiding the 1-5 favourite to victory for trainer Brian Brown.
The Irish-bred Oakwoodanabella IR posted fractions of :27.1, :55.2 and 1:22.4 before pacing home in :27.3 for her third win in four starts this season. Fire Start Hanover finished second by 2-1/4 lengths in her season debut. Awesome Hill was third, while Scarlett Hanover was fourth.
A daughter of Foreclosure, Oakwoodanabella IR arrived in North America last August and has now won eight of 13 starts. Her Graduate division win boosts her season earnings to $53,250 for owner Denis Copse.
"I think she's going to get better, especially next year," said Brown. "We'll stick with the four-year-olds as much as we can. She has some of the races with the older mares. I didn't come here to the Roses Are Red, the Milton I think I'm in that…she's just four and I didn't want to overdue it too early in the year."
Oakwoodanabella IR paid $2.50 to win.
The Graduate Series resumes with the third leg on June 25 at The Meadowlands. The finals will take place on July 9 at The Meadowlands.
Live racing resumes Monday evening (June 6) at Woodbine Mohawk Park. Post time is 7 p.m. (EDT).