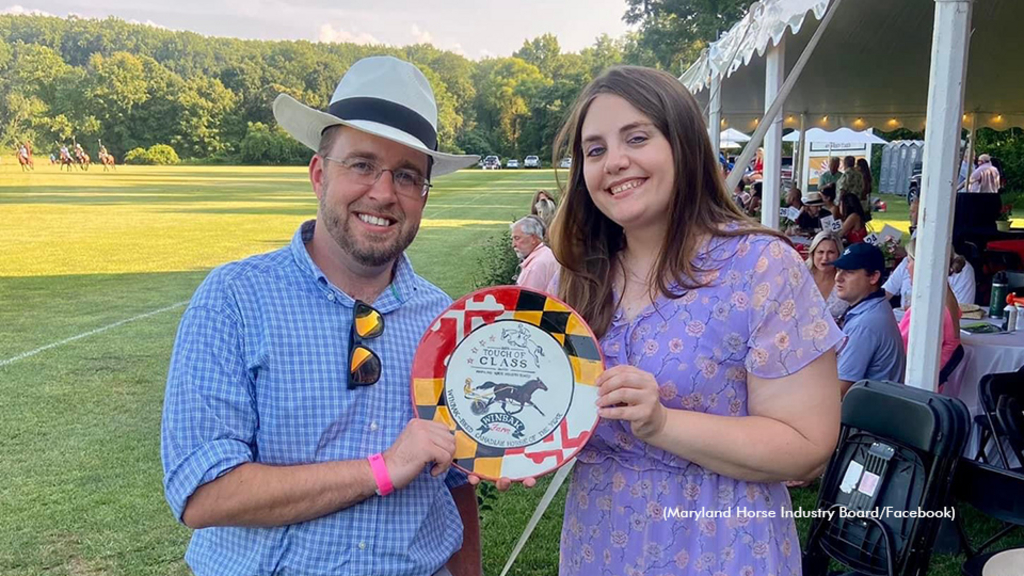 Winbak Farm was honoured with the Maryland Horse Industry Board's Touch Of Class Award on Friday, July 23 at the Ronny Maher Memorial Polo Match in Monkton, Maryland.
Established in 2011 by the agency of the Maryland Department of Agriculture, the Maryland Horse Industry Board's Touch of Class Award honours Maryland horses and related people or events that demonstrate the highest standards of excellence in the Maryland horse industry by achieving national or international recognition. The award is named after Touch of Class, a Maryland-bred Olympic Gold-winning showjumper.
As the breeder of Desperate Man, 2021 Canadian Horse of the Year, Winbak Farm received the Touch Of Class Award with Jack Burke, General Manager, and Elizabeth Cheesman, Public Relations, accepted the accolades. It was the fourth time the Chesapeake City, Maryland breeding farm has received the award.
Winbak Farm first received the award in 2012 for the three-year-old accomplishments of Roll With Joe, a multiple Grand Circuit Stakes champion and Dan Patch Award winner. Winbak was also recognized the following year after broodmare Lady Ashlee Ann and racehorse Bettors Delight were inducted into the U.S. Harness Racing Hall of Fame and Betterthancheddar was named Canada's Older Pacing Horse of the Year at the O'Brien Awards. The farm was honoured again in 2016 for being linked to three U.S. Harness Racing Hall of Fame inductees -- Joe Thomson, owner of Winbak Farm, along with racehorse Muscle Hill and broodmare Arls Troublemaker.