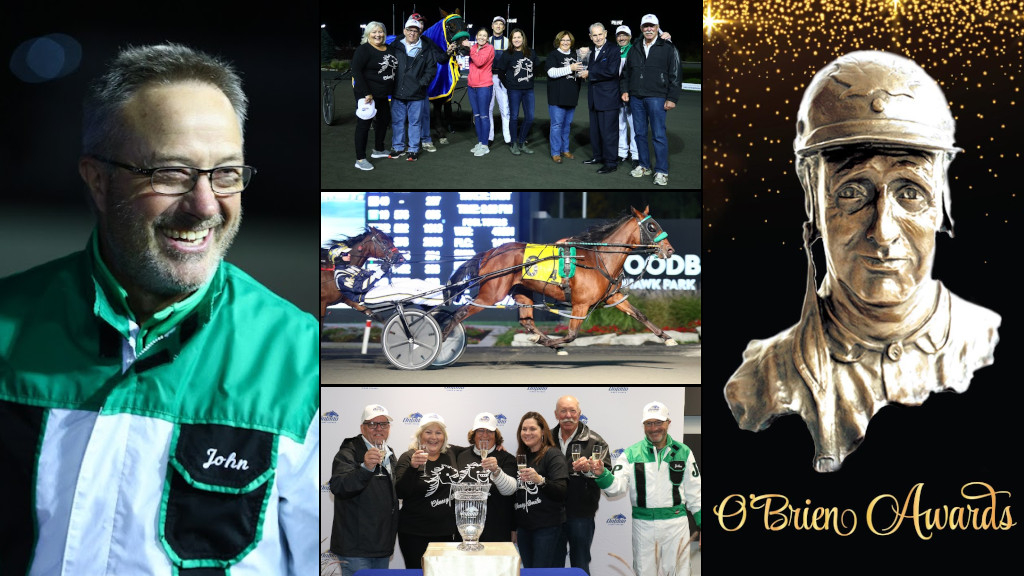 Cheesy Smile certainly gave her connections something to smile about, ending her debut season as one of the top two-year-old pacing fillies in the country.
Aptly named (twice) -- more on that later -- Cheesy Smile is an O'Brien Awards finalist after winning half of her 10 starts while banking $316,647 for trainer John Pentland, who co-owns with his good friends and partners Ron and Cindy Molyneux (R C Molyneux Racing) of Sparta, Ont., Peter Charlton of St. Thomas, Ont., and Archie Leach of London, Ont.
Pentland is looking forward to the return of Standardbred Canada's Black Tie Gala, which takes place this weekend in Mississauga, Ont., after consecutive years of virtual events where he celebrated the success of 2020 three-year-old pacing filly divisional winner Lauras Love and 2021 two-year-old pacing colt finalist Stonebridge Helios.
Top two in all of her Ontario Sires Stakes starts, Cheesy Smile led the provincial standings for her division and capped off her rookie campaign by winning the $225,000 Super Final in a career-best 1:51.1 clocking in rein to Bob McClure on Oct. 15 at Woodbine Mohawk Park.
"That was an outstanding race," Pentland told Trot Insider. "I would have gone to the windows halfway around the turn and I would have bet my house on it. The way it was setting up, I'm just like, 'This is it. This is it. I know we're about eight lengths back, but we're going to win this horse race.' It was exciting."
Bred by Blue Chip Bloodstock Inc., the Betterthancheddar-Frame Worthy filly, who is a half-sister to multiple Ontario Sires Stakes winner Andra Day and six-figure earner Moaning Lisa, was a modest $38,000 yearling purchase at the Harrisburg Sale, sold under the name 'Uhuh Blue Chip.'
While that name may have been a sign of her challenging demeanor -- "she's not a dirty filly, she's just so annoyed" -- the filly fit the bill when Pentland eyed her up in Harrisburg, and the price was right.
"She was exactly the kind of horse I like to buy," said Pentland. "Maybe average, maybe a little less than average size, but blocky with a big rear end. Very correct. And, you know, she's a 'Cheddar,' I've certainly had lots of 'Cheddars'... I find that they just put out -- they try."
Cheesy Smile put forth winning efforts in a pair of Gold stakes and a Grassroots division. She missed by less than a length in two more Gold events and showed :26.1 and :25.4 final quarter speed when competing against Grand Circuit competition.
"She just laid low the whole year, but showed up every single trip and was always strong finishing," noted Pentland. "We kind of babied her, we sat her in a lot. I don't know if I needed to do that, in hindsight, but I did do it and, you know, she sort of ended up racing in that manner too where Bob [McClure] wouldn't show her a lot of air and she'd finish up strong.
"Bob did a great job making sure that she cleared as late as possible. I couldn't drive like that. I mean, he drove her to the best of her ability and he put her in a position to win those races. And she would have got collared or more for most drivers.
"We played with her bridle, we tried to open her up a little more, but when she'd clear, she'd let go. And I know Sylvia Hanover was the same. It was funny that Bob was the driver on both."
Pentland admits that Cheesy Smile, who is an O'Brien finalist in a division he won back in 2006 with standout Ontario-sired filly Luck Of Michelle, faces a tough opponent in the near-perfect Sylvia Hanover, winner of the Shes A Great Lady Stakes and Breeders Crown.
"She's Horse of the Year if it's not Bulldog [Hanover]," he said of Sylvia Hanover.
The O'Brien Award winners will be announced on Feb. 4, with live streaming of the red carpet and awards presentation available on standardbredcanada.ca.
Beyond the highly-anticipated formal affair, Cheesy Smile is being pointed to the Ontario stakes program, beginning with the SBOA Stakes. Pentland has reported that she has returned to work in excellent form after addressing a bothersome sesamoid.
"She was a great-looking horse last year and she's just 20 per cent more great," said Pentland.