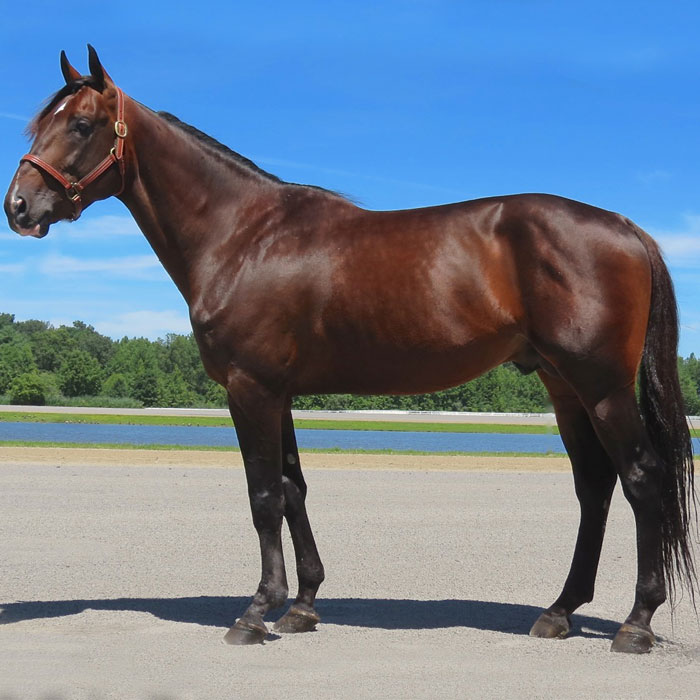 Betterthancheddar
p, 2, Q1:55.3s; 3, 1:49.1s; 1:48f ($1,636,086)
Both parents are Harness Racing Hall of Fame Inductees

Dam has produced the winners of $5.5 Million+ & 6 in 1:51.2 or faster
Half-brother to Courtly Choice, p, 3, 1:47.1 ($1,432,697)
Half-brother to Ashlee's Big Guy, p, 1:50.4f ($1,009,523)
Half-brother to Artist's View, p, 1:49.4 ($795,750)

Winner of O'Brien Award for Aged Pacing Horses/Geldings

Winner of 19 races

At 3, Winner of Breeders Crown (elimination & Final)

Also, Winner of American National, Cane Pace, Summertime Series elimination & Windy City Pace

At 4, Winner of 9 of 11 races

Winner of Ben Franklin Pace (elimination & Final)

Won Final in 1:48, a world record for a five-eighths

Winner of Bobby Quillen Memorial in 1:49.2, equaling the world record for a half-mile

Winner of Canadian Pacing Derby elimination & Des Smith Classic

Sire of Betterzippit - 2023 $1Million The Nullarbor Winner

Sire of Powerful Chris, fastest all-age mare on 5/8ths in Canadian History (1:50.2)
Sire of Cheesy Fingers - fastest 3-year-old filly ever in the Southern Hemisphere & Group 2 Raith Memorial Winner
Sire of 2020 O'Brien Award Winner, Laura's Love, p, 3, 1:50.3s ($486,683)
Sire of 2021 Battle of Waterloo Winner, Betterhavemymoney, p, 2, 1:51.4s -'21 ($423,130)

2021 O'Brien Award Winner for 2-Year-Old Colt Pacer of the Year!
Sire of 2023 ON SBOA Final Winner, Cheesy Smile, p, 2, 1:51.2s -'22 ($383,377)
Sire of 2023 ON Graduate Final Winner, Cold Creek Queso, p, 3, 1:48.3s -'22 ($362,184)

Sire of 7 who have earned $500,000+ including:

Wisdom Tree, p, 2, 1:52.4s; 3, 1:49.4s; 1:49.1s ($687,376)
Nandolo N, p, 1:48.3 -'23 ($617,656)

Ostro Hanover, p, 3, 1:52.1f; 1:50.3f ($616,851)
Miss You N, p, 1:49f ($556,625)
Better Be Donna N, p, 1:49.3s ($535,835)
She's Pukka N, p, 1:50.2f ($514,811)
Trump Nation, p, 2, 1:54.4h; 3, 1:51.3h; 1:49.3 ($503,120)
Loyalty and multiple mare discounts are available. Call 905.838.2145 for more information.
As of 5/26/23
STUD FEE: $4,000 CAD
Ontario Stallion - Betterthancheddar
Bettor's Delight
Cam's Card Shark
Classic Wish
Lady Ashlee Ann
Camtastic
Preacher Edith
Testimonials / Latest News
Proven success with mares sired by:
Artsplace
Badlands Hanover
Courage Under Fire
Christian Cullen
Grinfromeartoear
In The Pocket
Mach Three
Northern Luck
Rock N Roll Heaven
Run The Table
Western Hanover