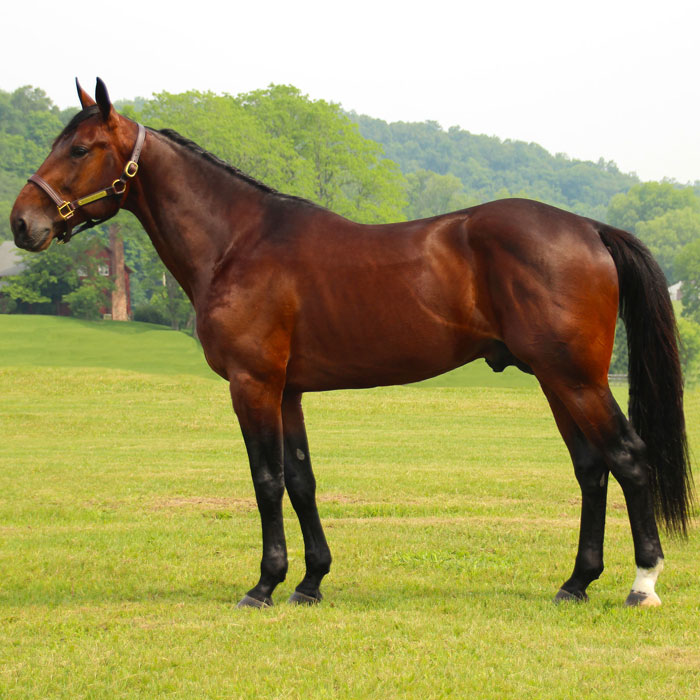 Heston Blue Chip
p, 2, 1:50.4f; 3, 1:48f ($1,781,881)
New to Pennsylvania in 2019!

Richest son of top pacing stallion, American Ideal
Full-brother to Sunfire Blue Chip, p, 3, 1:48.3f ($1,476,940)
Family of Kikikatie, p, 3, 1:50.3 ($1,268,463)
Full-sister, Lotsa Matzah, sold a yearling at 2018 Harrisburg for $250,000

34x Winner
Winner of USHWA Dan Patch Award for Three Year Old Pacing Colts against a tough crop that included A Rocknroll Dance, Bettor's Edge, Michael's Power, Sweet Lou & Thinking Out Loud
At 2, Winner of John Simpson Memorial, Matron Final, 7 NYSS Legs & Final & Tompkins-Geers
At 3, Winner of Breeders Crown elimination & Final (1:49.2)
As the Favorite in the Final beat Bettor's Edge, Michael's Power, Sweet Lou & Thinking Out Loud
Winner of Cane Pace elimination
Winner of Empire Breeders Classic elimination & Final (1:48.4)
Winner of Historic in a divisional track record at Tioga Downs of 1:49.2
Winner of Matron Final in lifetime best 1:48
Winner of Meadowlands Pace elimination
Winner of 4 NYSS Legs
Winner of Progress Pace elimination (1:49.3, last quarter 26.3) & Final (1:49)
Set track-records & divisional-records at Tioga Downs (1:49.2 & 1:48.4) & Dover Downs (lifetime best 1:48)
First Crop (from 27 foals) included:

2019 NYSS Winner, Zero Tolerance, p, 2, 1:51 -'18 ($590,413)

#2 Richest 2YO Pacing Filly in North America


NY Excelsior Winner, Sun Viser, p, 2, 1:57.2h -'18 ($43,220)
NY Excelsior Winner, Justabitofcharm, p, 2, 1:54.4s -'18 ($36,656)
NY Fair Winner, Hot Seat, p, 3, 1:55f -'19 ($24,277)
NY Fair Winner, Hestons Lucky Chip, p, 3, 2:00.1h -'19 ($21,027)

Being bred to a great book of mares in 2019 including:

Milton Final Winner, Laughandbehappy, p, 1:49.1s ($729,104)
Jugette elimination Winner, Bettor N Better, p, 1:50.2s ($633,955)
Sweetheart Final Winner, Lonesome Day, p, 2, 1:52.4m ($400,172)
1/2-sister to Sportswriter, Incredible Beauty, p, 3, 1:54f ($134,630)
Now standing at Nandi Farms in Pennsylvania. Contact Winbak Farm of Maryland at 410.885.3059 with questions or to obtain a booking application.
As of 6/20/19
STUD FEE:
$6,000
American Ideal
Western Ideal
Lifetime Success
Shot Togo Bluechip
Cam's Card Shark
CCS Saleofcentury
Links
TrackIt Pedigree
Booking Application
Hypothetical Mating (USTA)
Breeders Crown 1:49.2 (YouTube)
Matron Stake 1:48 (YouTube)
Pennsylvania Sire Stakes
News
"Heston's yearlings are great looking yearlings! They are nice and leggy with good size. His yearlings are well balanced with good conformation and good heads. They look like track stars," said James Ladwig, Winbak Farm Yearling Manager.
"Heston Blue Chip is the real deal," said Linda Toscano, Heston Blue Chip's trainer. "He was clearly the best New York Sire Stakes colt at two and three...setting multiple track records on all size tracks."
"In his Breeders Crown win, he beat the best of the best including Sweet Lou," said Toscano, "If that isn't enough, he's one of the kindest, nicest and happiest horses I've ever had the pleasure to work with."
"He's great gaited, wore no boots, and a 63" hopple," said Toscano.
"Heston had a great attitude. He wanted to win at high speeds and usually that transfers to a stallion's offspring," said Tim Tetrick, driver. "His offspring should do great if they have his attitude and desire."
"I really enjoyed racing Heston Blue Chip", said Tetrick. "From the first time I raced him in a baby race I knew he was going to be special, he raced great at 2 and 3, and he never let me down."
"He was a beautiful animal, big, strong and athletic on his feet, " said Tetrick. "He could leave the gate lightning fast. Heston was just super nice and raced good on all size tracks."
First Responders Day a huge success 6/16/19
DD Delicious & Zero Tolerance grab NYSS 6/10/19
Tioga To Host NYSS Monday 6/9/19
Pocono Flooded With Baby Races 6/5/19
Zero Tolerance wins NYSS at Yonkers 5/15/19
High expectations for Heston Blue Chip 3/7/19
Winbak donates to MSOA Scholarship 2/21/19
Van Wagoner highlights Post Time 2/20/19
Wagner and Still driving doubles 2/14/19
Crosses of Gold
Proven success with mares by these sires
Allamerican Ingot
Artiscape
Beach Towel
Bettor's Delight
Cammibest
Dragon Again
Jenna's Beach Boy
Life Sign
Village Jove