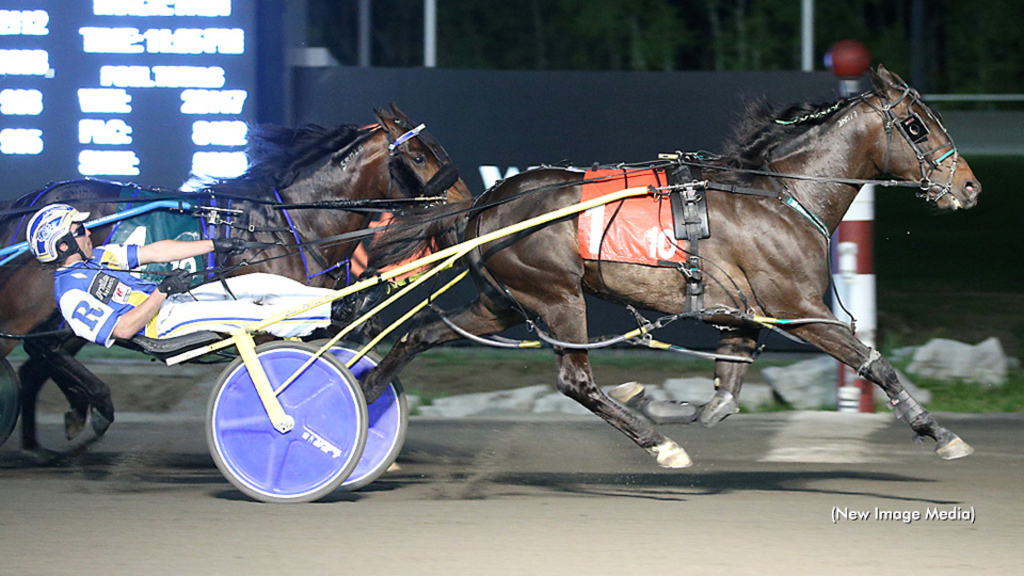 Six months ago, Adriano Sorella could not have expected to be in the situation he finds himself in today. His pride and joy, pacer Jimmy Freight returned to the racetrack and climbed to the top of the harness racing world. With a stateside stakes schedule looming, Sorella has made arrangements to have the stallion campaigned by one of the sport's top trainers and has brought some new owners along for the ride.
Trot Insider learned on Wednesday (June 29) that Jimmy Freight is on his way to the stable of trainer Brett Pelling after a sale in which Sorella brought on four new ownership interests. The price and the partners were not disclosed, but Sorella is excited for the future with this new ownership group.
"I think what sparked the attention was when I started saying about how we had to go to the U.S. to race, and that's a difficult thing to do because you're going from state to state to state, and Richard [Moreau], he doesn't go stateside. So now you have to find out who's going to take care of him for that week that he's going to be racing, wherever he's going to be racing," said Sorella. "And you know, this wasn't something from the beginning of bringing him back that we really ever thought would happen."
If at the start of the year you had Jimmy Freight leading the 2022 Hambletonian / Breeders Crown Standardbred Poll heading into the second half of the year, you had more faith in the horse than his connections. Hoping for possibly a similar kind of campaign that Moreau achieved in 2021 with older pacer Wheels On Fire, Sorella and Co. got so much more from Jimmy Freight to start the season. With a summary of 11-1-3 from 18 seasonal starts, Jimmy Freight appears to be in the best shape of his life at the age of seven. He took a lifetime mark of 1:48 in most recent appearance, the 2022 Mohawk Gold Cup Invitational, defeating a red-hot Linedrive Hanover and 2021 Gold Cup winner Allywag Hanover with an impressive mile that followed a string of eyebrow-raising performances that made the entire industry take notice.
"We didn't think he was going to get to where he is right now; he's better than he has ever been. So this is something that we've been talking about for a month now. And there were a couple of groups that I mentioned it to, and they were both interested in him, and it just came down to how we would structure a deal and how we would make it work."
Sorella completely credits Moreau and his crew for having Jimmy Freight in this condition at this stage of his career, with 32 wins from 72 lifetime starts and more than $1.8 million in earnings, and as expected that decision wasn't easy to relay, but Sorella noted that Moreau completely understood the rationale for the move.
"Let's be honest, if it wasn't for Richard and his team we wouldn't be in this position right now. It was a year ago to the month of June that I brought him back and I said to Richard 'I don't know how he's going to be, like he's been off for two years. Take as much time as you need.' He said 'I put a harness on him this morning. He looks fine. Give me four months.' Literally four months later, he said 'I'm going to qualify him.'
"Look at how he's been? He's been remarkable, and we think he's going to be better."
Without revealing the new partners, Sorella indicated that he's thrilled to have new connections involved on the ownership of Jimmy Freight. He also indicated that he's aware many people reading that sentence might have to read it again given the longtime bond between horse and owner, and that the horse would only ever have one owner.
"I know nobody ever thought I would sell him, and I'd keep telling people 'that's not true.' It's still business. It's not business as in money, it's business as in you still have to protect your business. He's one of the family, but he's also business and that's why I didn't want to sell 100 per cent...I still wanted to be part of the group, and I still wanted to be part of the management group. And that's exactly the deal I worked out. There's a group, but there are basically two of us that will control what the horse does.
"It's a pretty strong group. I'm very happy with the people that are involved...He's ready to go, he's been all vetted out, and that's it."
Sorella noted that Pelling's name was the "first and only" name discussed to train the horse, and expected that Jimmy Freight will have a start for Pelling before his next scheduled stakes appearance — the 2022 Joe Gerrity Jr. Memorial at Saratoga Casino Hotel on Saturday, July 23 to kick off an extensive stateside Grand Circuit schedule that will also include appearances in many of harness racing's top pacing events.
Will Jimmy Freight race again on Canadian soil? Longer-term plans also include the Canadian Pacing Derby and 2022 Breeders Crown, both set to take place at Woodbine Mohawk Park.