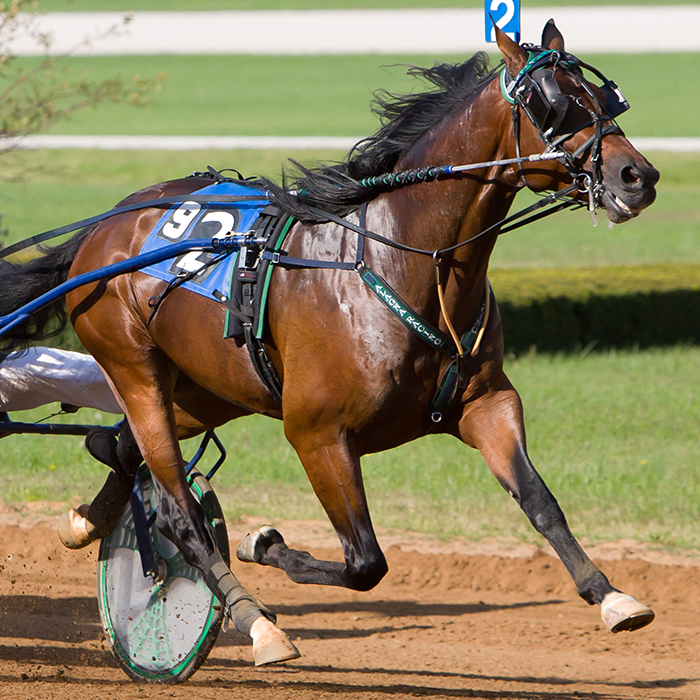 My MVP
2, 1:56.1; 3, 1:52 ($879,764)
New to Ontario in 2019!
At 2, winner of Late Closer #12 leg at The Red Mile
Third in Late Closer #1 leg at The Red Mile & PA Stallion Series div at Harrahs Chester Casino
At 3, Winner of KY Futurity div & Final at The Red Mile, PASS div at The Meadows & div at Pocono Downs
Second in Late Closer #10 leg at The Red Mile, PA All Stars S. div at Pocono Downs & PASS final at Pocono Downs
Third in Earl Beal Jr. Memorial elim at Pocono Downs, Hambletonian elimination & final at The Meadowlands
At 4, winner of Open at The Red Mile
Oldest Crop now 3
Sire of 5 Winners of $100,000+
$53,284 Average Earnings Per Starter
72.2% of Starters Have Records
Top 5 in NA for Percentage of 2018 1:55 3YO Trotters
Top 5 for Average earnings per Foal for 3YO Trotters
Proven Sire of Stakes Winners including:

Goodtimes Trot Final Winner, Wolfgang, 3, 1:51.2 -'18 ($613,930)
OH Breeders Championship Winner, Rising MVP, 3, 1:54.4h -'18 ($181,762)
OH Sire Stakes Winner, Spunky Bottom Girl, 3, 1:54.2h -'18 ($167,725)
OH Sire Stakes Winner, Non Smoker, 3, 1:54f -'18 ($111,138)
OH Stakes Winner, Bugs MVP, 3, 1:58.3f -'18 ($107,365)
OH Sire Stakes Consolation Winner, Westfiftysecond, 2, Q1:57.3f -'18 ($55,000)

All earnings/records as of 11/30/18
STUD FEE:
$4,000 CAD
Cantab Hall
Self Possessed
Canland Hall
Exceed Expectation
Kadabra
Must B Heavenly
Links
TrackIt Pedigree
2019 Ontario Contract PDF
Hypothetical Matings (USTA)
Current Top Performers (USTA)
Ontario Sire Stakes
News
"My MVP was one of the cleanest gaited horses I ever trained. My MVP was a neck short of a Hambletonian Win and delivered a much deserved win in the Kentucky Futurity in straight heats. He showed up to work every day and I look forward to purchasing his first Ontario crop!"
-Tony Alagna, Trainer
My MVP A Great New Choice 1/8/19
My MVP To Winbak Of Ontario 10/15/18
Crosses of Gold
Proven success with mares by these sires
American Winner, Angus Hall, Broadway Hall, Classic Photo, Conway Hall, Credit Winner, Donerail, Malabar Man, Mr Vic, Striking Sahbra, Swan For All